Move fast and fix things: Handyman gets a second chance at Coupang
It seems there's hardly a moment when Ui-yoon Lee (61) is sitting still at Namyangju Camp 1. If he's not actively repairing utility carts, which is his specialized role as a repair technician, he goes around looking for broken objects to repair or even building customized tools to help make repair tasks easier. Given the way that Ui-yoon is always on the move, it's easy to forget that he was diagnosed with a leg disability in his mid-40s.

Before his disability diagnosis, Ui-yoon threw himself into all sorts of different physical labor, including construction work. By the time he was in his early 40s, he had settled down as a car mechanic, but he suffered a serious back injury that left him unable to even walk. Fortunately, the resulting surgery was successful, but he could no longer walk like he used to. Following his disability diagnosis, he had to quit his job as a car mechanic, as he could no longer handle the physical demands of the work.

"With a wife and three kids, I couldn't stand idly by. Even after becoming disabled, I kept looking for things I could do," said Ui-yoon. "Before joining Coupang, I delivered medicine for pharmaceutical companies for nearly six years with a commercial one-ton vehicle. But as I got older, it was not easy to drive 12 to 13 hours a day, and I often fell while working. So, I quit and stayed home for a few months, but life soon felt meaningless. I eventually submitted a resume to Coupang because they were recruiting shuttle bus drivers."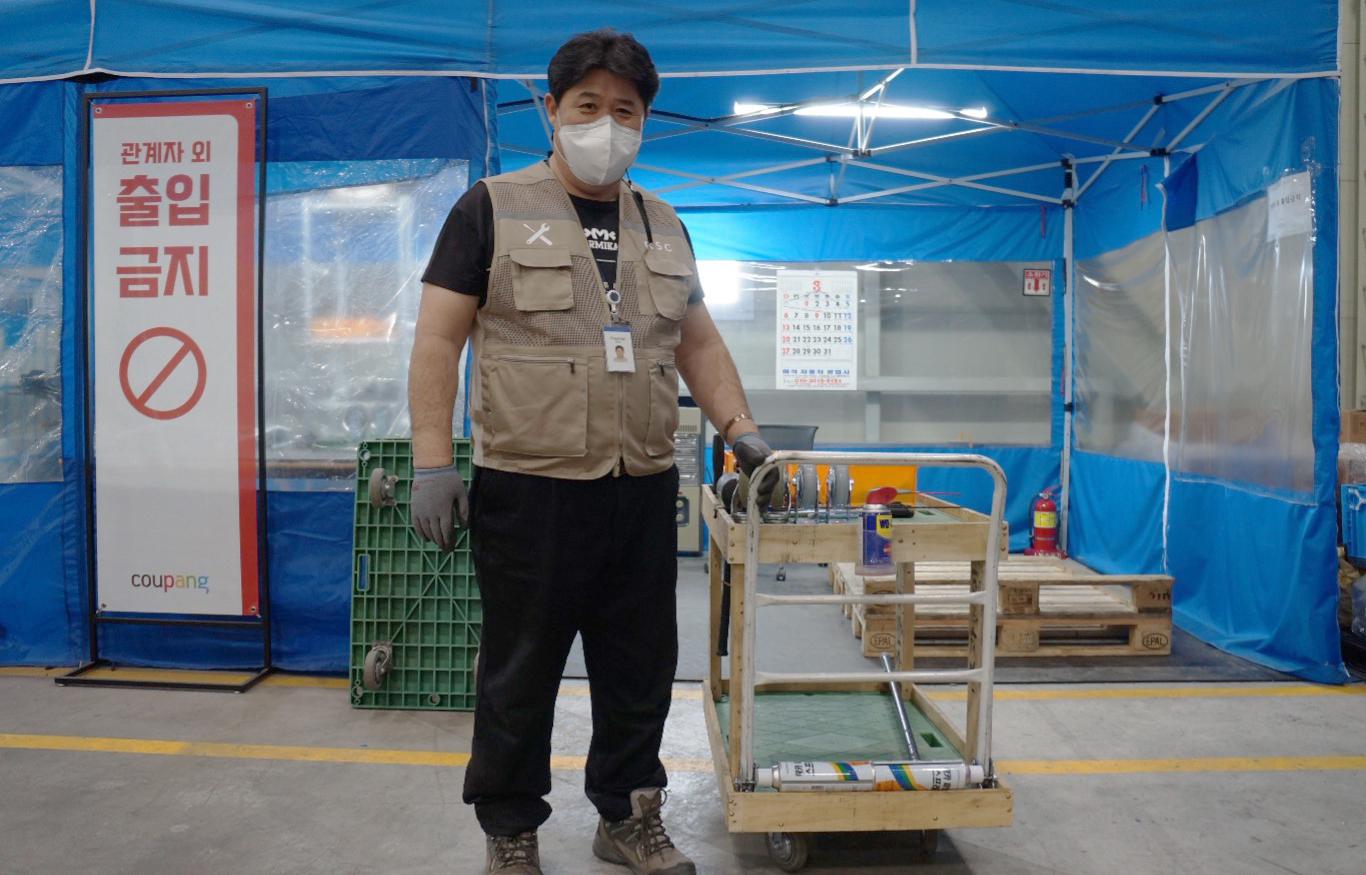 While reviewing Ui-yoon's resume, a recruiter in the Inclusion Management Team, a team established by Coupang in 2021 to develop customized jobs for people with disabilities, was reminded of the company's new Repair Service Center. As Ui-yoon had worked as a car mechanic for a long time, the recruiter thought he would be perfect for the position and proposed the new role.

"It was great to receive an offer to do repairs instead of driving, but I would have to handle inventory clearance and other work logs on a computer," said Ui-yoon. "My mind went blank. I was confident in working with machinery, but I told the recruiter honestly, 'I can't work at Coupang because I'm not good at computers.' He told me, 'It's okay because there are so many things you can do well.' I was so grateful when he told me, 'If you write things by hand, I can transfer it to a computer,'" Ui-yoon recalled with a smile.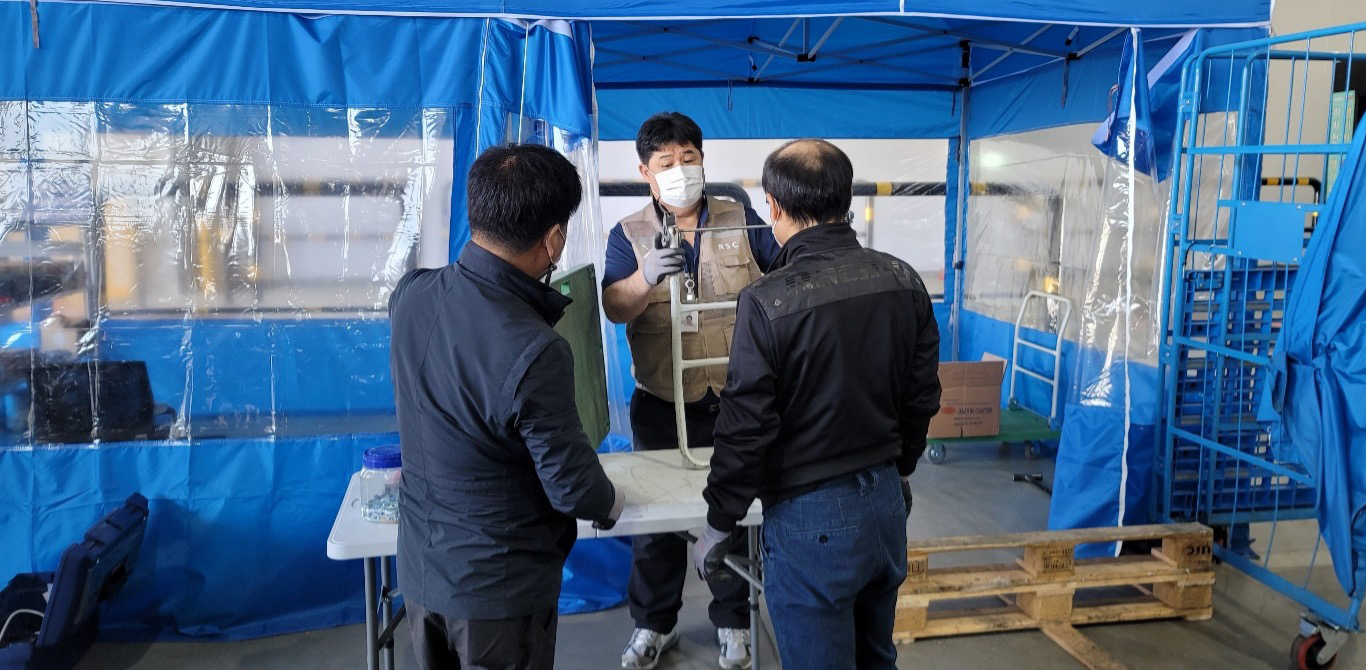 Ui-yoon training new hires
Ui-yoon quickly made a name for himself as an expert in turning "junk to treasure." Word of mouth even spread to nearby camps, to the point where Ui-yoon was making business trips to other districts to perform complicated repairs and train new hires. 

He even took over the repair of utility carts at Namyangju Camp 1, which had previously been outsourced to a subcontractor due to the complexity of the work. Ui-yoon had carefully observed how the people at camps worked, identified how these carts were damaged, and did customized repairs to keep workers safe and increase the longevity of the repairs. Ui-yoon's techniques significantly reduced costs and increased the speed of repairs, greatly improving efficiency.

 


"I pick up broken items in the camp and fix them in my own way," said Ui-yoon. "I'm really happy these days because I can do such fun work my entire life."

Ui-yoon's dexterity and creativity in repairs extends to inventions as well. He designed a tool with a magnet attached to help him pick up small nuts, bolts, and other trinkets on the floor so that he's not hindered by mobility issues. He also directly welded a special hammer to straighten bent utility carts, as using a normal hammer would cause the metal to weaken and eventually break. He jokes that he would love to patent his tools eventually, as there are none like them in the market.
"I was diagnosed with a disability in my mid-40s, and I struggled to find a job I could do well," said Ui-yoon, "but I found a job that was perfect for me. It was a pity that damaged items were being thrown away at the camp as hopeless, so I tried to fix them by applying myself." He added, "Reusing things also makes me feel I'm helping save the environment. I want to work at Coupang for as long as my health permits."
Interested in working at Coupang? Learn more here.
This article is from the Coupang Newsroom and to read more please visit here.