Distinguished service honoree continues representing his country as a Coupang para-athlete
Taek-gon Kim was a member of the Combat Police in the early 70s, a tumultuous time in Korean history with many high-profile border incidents between North and South Korea. In 1973, Kim lost his right leg while conducting counterespionage operations, for which he was recognized as a "Person of Distinguished Service to the State" by the Korean government. After he was discharged, he worked as a banker for 28 years, and then in 2009, he became a table tennis player as a part of the Korean Disabled Veterans Sports Council. He is also a founding member of Coupang's Paralympic Team, established in 2019.
We met with Kim at the Disabled Veterans Sports Council Center in Suwon to hear his story.

I heard that you injured your leg during a military operation.

I enlisted in the Combat Police on September 3, 1971. At the time, there were many incursions from spies and guerrilla forces from North Korea to the South. The Blue House Raid* and the Lee Seung-bok Incident** also happened around that time. Our unit's mission was to catch spies entering from the coast of South Chungcheong.

On April 3, 1973, there was an emergency in the middle of the night. We rode a Dodge military truck out to Chilgapsan Mountain, fully armed with bayonets and all. There had been cases of spies crossing over from Daecheon to Chilgapsan before.

But the truck suddenly stopped while going up a dark mountain road…

* 1968 incident when 31 North Korean commandos infiltrated South Korea in an attempt to assassinate the South Korean president
** Murder of nine-year old South Korean boy in 1968 by North Korean commandos

What happened?

I don't know. When I woke up, I was in the hospital, and they told me that three days had passed. I couldn't feel one of my legs.

Later, I heard that the truck had rolled over and I was lying on the roof of the truck, pinned down by my right leg with my carbine. My leg was still attached but they couldn't do anything, so they had to amputate it. After spending 10 months in the hospital, I was recognized as a Person of Distinguished Service to the State and discharged. I was immediately fitted with a prosthetic leg.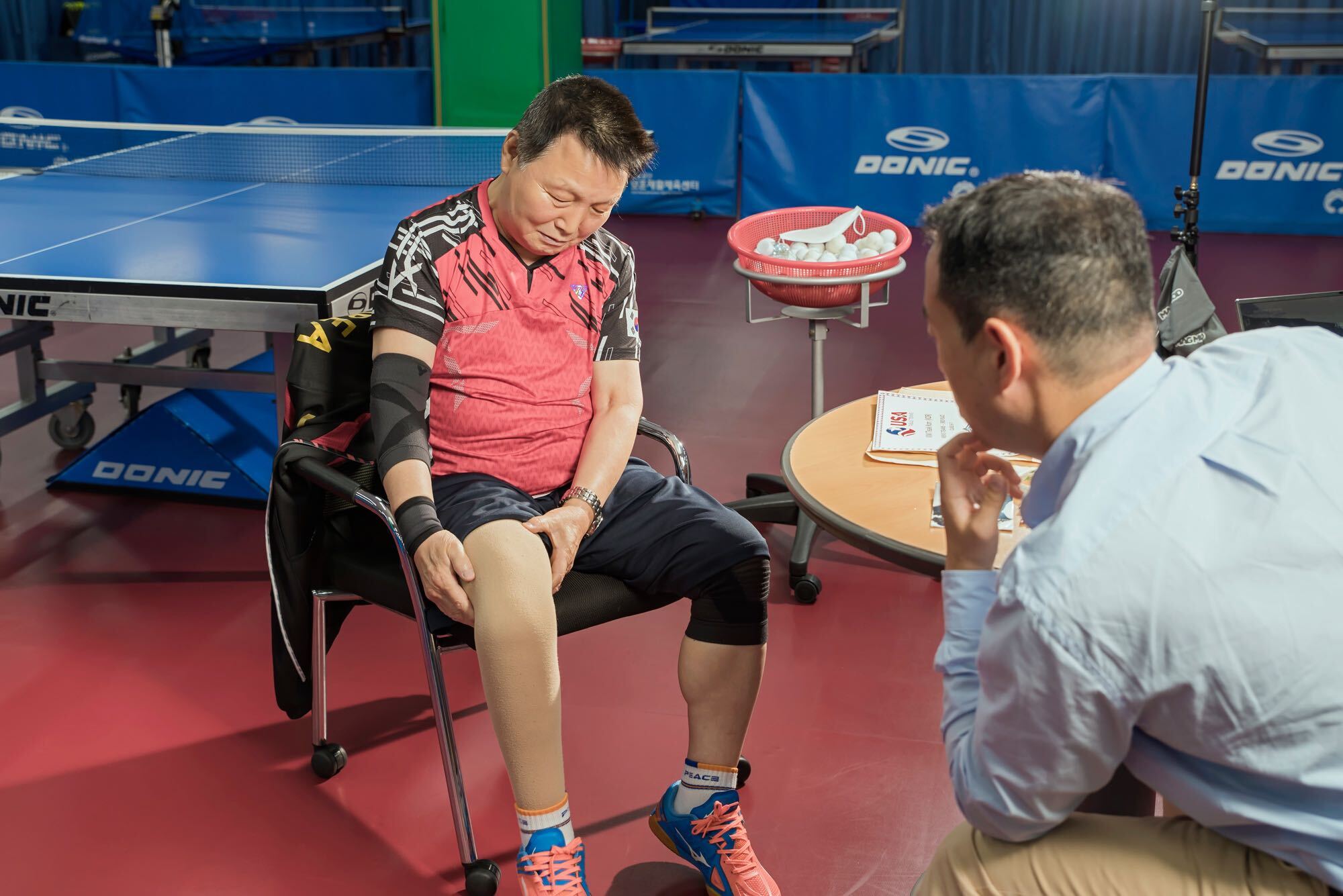 It's hard to tell you have a prosthetic leg; you walk just fine without a cane.

People tell me I should walk with a cane, but I have no reason to do so. I have to be careful though. If I stumble, I'll fall down. Since my right leg is a prosthetic, I only fall on my right side and only get injured on my right. I've broken my arm, shoulder, collarbone, and hipbone before. One time, I was hospitalized for three months.

Now, when people see me, they call me a "lifelong nobleman." It's because I can't run and I walk slowly, like the noblemen of the past.

What did you do after being discharged?

The Veterans Affairs Agency (now the Ministry of Patriots and Veterans Affairs) introduced me to a job, so I worked at the Seosan Fisheries Cooperative from 1975. I worked there for 28 years, and retired as the cooperative's CEO. Then I worked for four years as a law firm administrator, and another four years as the secretary general of the Seosan Veterans Affairs (VA) Center. 

At home, we had a son and a daughter and raised them. My sun runs a logistics business at Incheon International Airport and my daughter is a musical singer.

How did you become a table tennis player after retirement?

While working at the VA center in 2009, I had a chance to participate in a table tennis match for disabled veterans. But I was crushed in my first tournament, and that made me mad. As soon as I returned to Seosan, I signed up for a table tennis academy. I took lessons there for two and a half years, then went to the Disabled Veterans Sports Council Center in Suwon and trained with them. I got guidance from a coach from Yongin University, and that greatly improved my skills.

These days, we live and train together for 100 to 150 days a year. We train from 9 AM to 5 PM. If I had started this as a child, I could have become a national table tennis player.

* Kim is a Class 7 para table tennis player based on the rules set by the International Table Tennis Federation, which classifies athletes from Classes 1 to 5 (sitting class) and 6 to 11 (standing class) by impairment. Class 7 is for very severe impairments of legs, severe to moderate impairments of playing arm, or a combination of arm and leg impairments less severe than Class 6.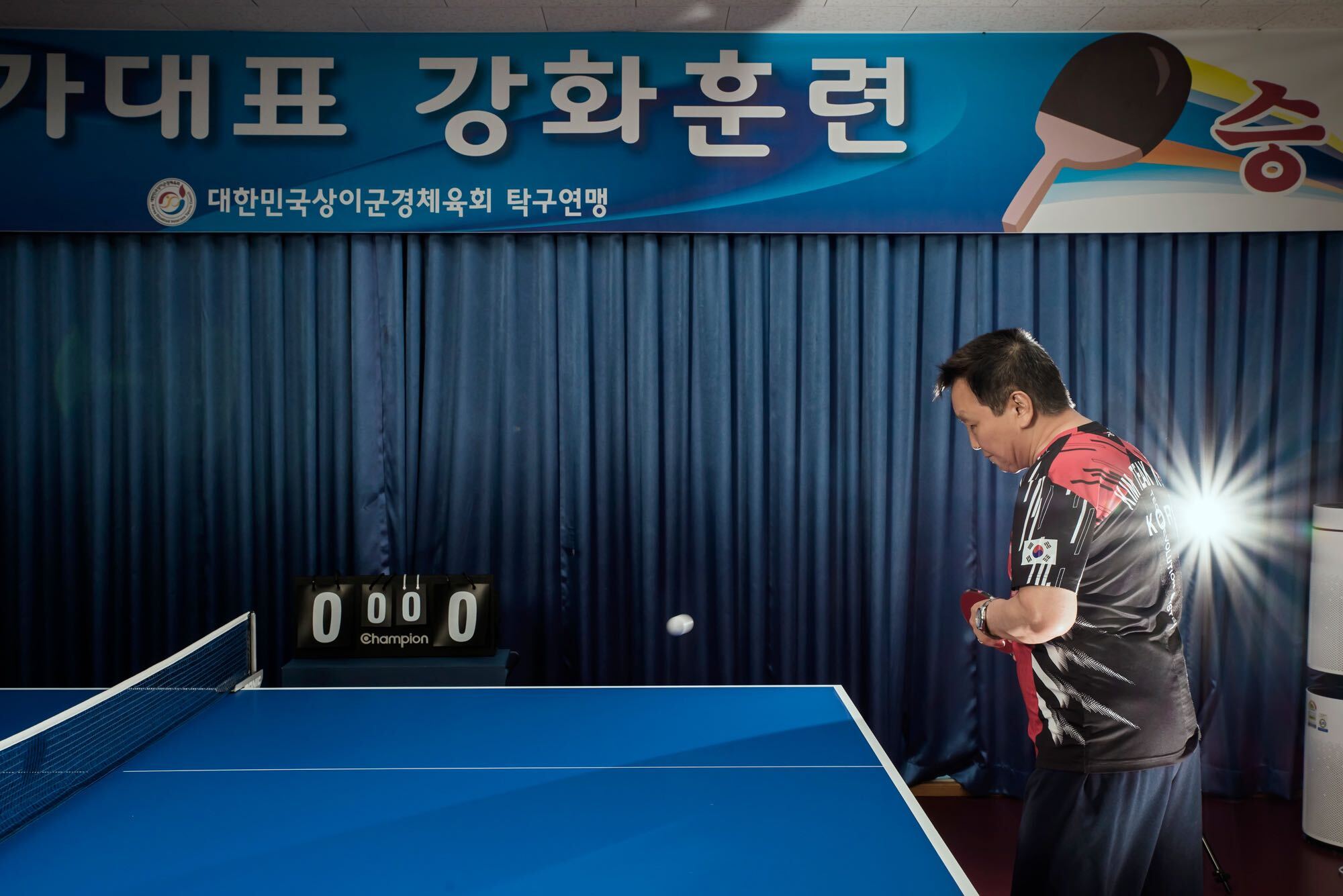 Have you participated in international competitions?

I've gone several times. I participated in a competition for disabled soldiers and police officers from all over the world, and another one open to all people with disabilities. I also went to the 2018 US Para Open in Las Vegas, beating players from Chile and Thailand to win the bronze medal. All the competitors then were young players.

I had been preparing to participate in an international competition in the Netherlands in 2020, but it was canceled because of COVID. This year, we're training together to be selected as representatives for the next competition in Egypt.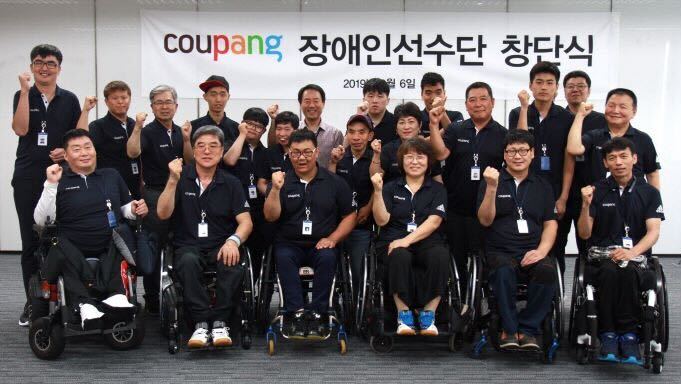 How did you come to join Coupang?

While training hard as an athlete, I learned that Coupang was launching a paralympic team. I joined Coupang without hesitation because I think Coupang is a well-known and competitive company both in Korea and abroad, and it's a great company that promotes the happiness of its employees.

I'm truly grateful to all my colleagues and employees for the company's continued support and respect for patriots and veterans.

I think it's our generation that owes our gratitude to patriots and veterans like you.

I think people who think that… are some really great people.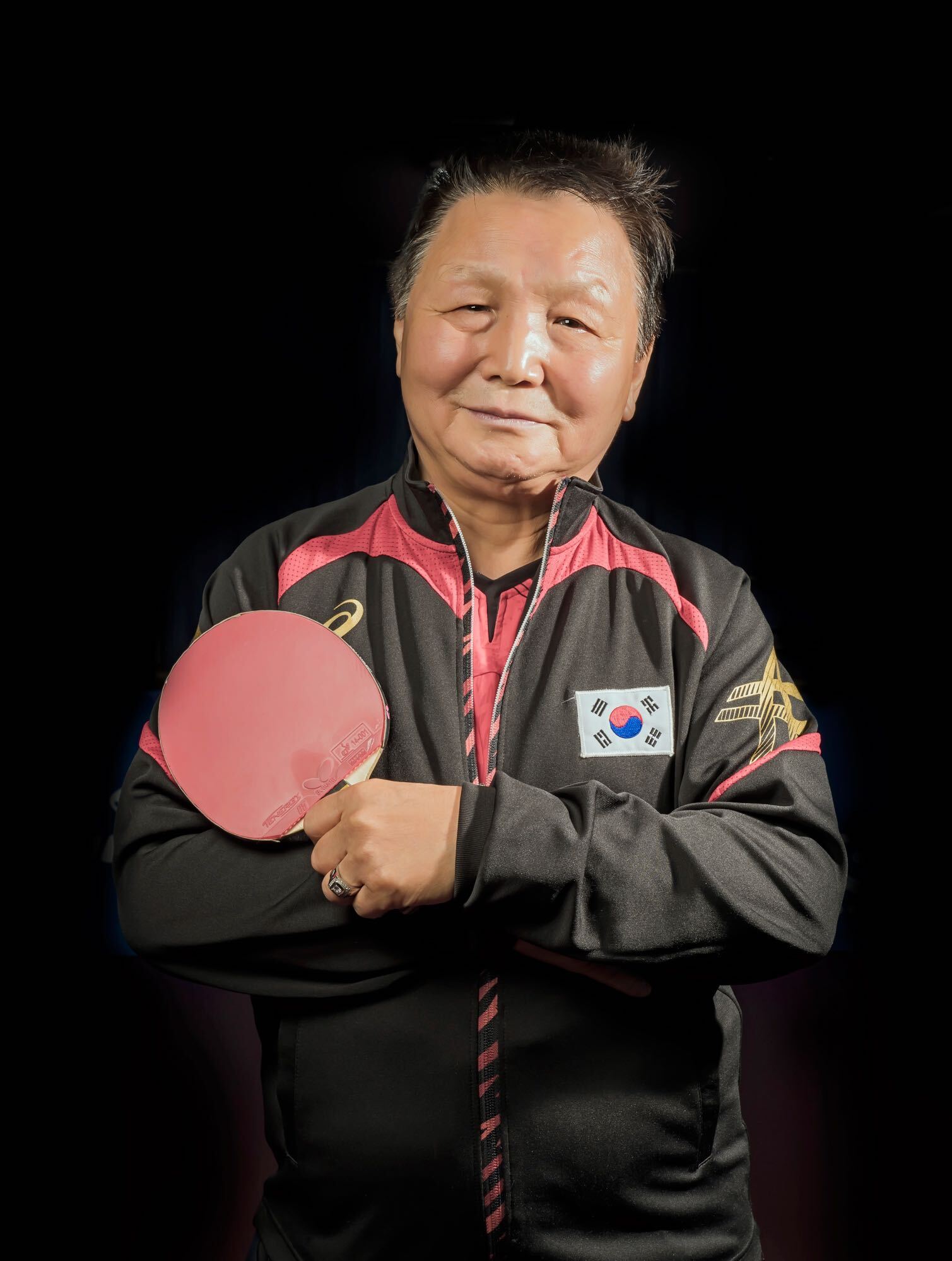 This article is from the Coupang Newsroom and to read more please visit here.