Sharing unforgettable destination experiences with the Coupang Travel Marketing Team
Rocket Delivery was a game-changing entry to e-commerce when it launched in 2014, proving to customers that online shopping could be fast, convenient, reliable, and affordable all at the same time. Breaking such tradeoffs is integral to what we do here at Coupang, and we are continually striving to find new ways to delight our customers with offerings such as Coupang Eats, Rocket Fresh, and even Coupang Travel. 
With 24-hour customer service, convenient package deals, easy cancellations, and more, Coupang Travel is changing the way customers explore the world around them. Today, we meet the Travel Marketing Team to learn what makes Coupang Travel so special.

After reading a recent article on a Jeju guesthouse, I recommended it to some friends who were planning a trip. Despite being regular Coupang customers, they were surprised and delighted to learn that they could make travel reservations on Coupang.

Since Coupang's Rocket Delivery is so popular, it's true that many of our customers aren't as familiar with or even aware of our travel offerings. However, Coupang Travel has a surprisingly long history, which has been one of our categories since the beginning of Coupang.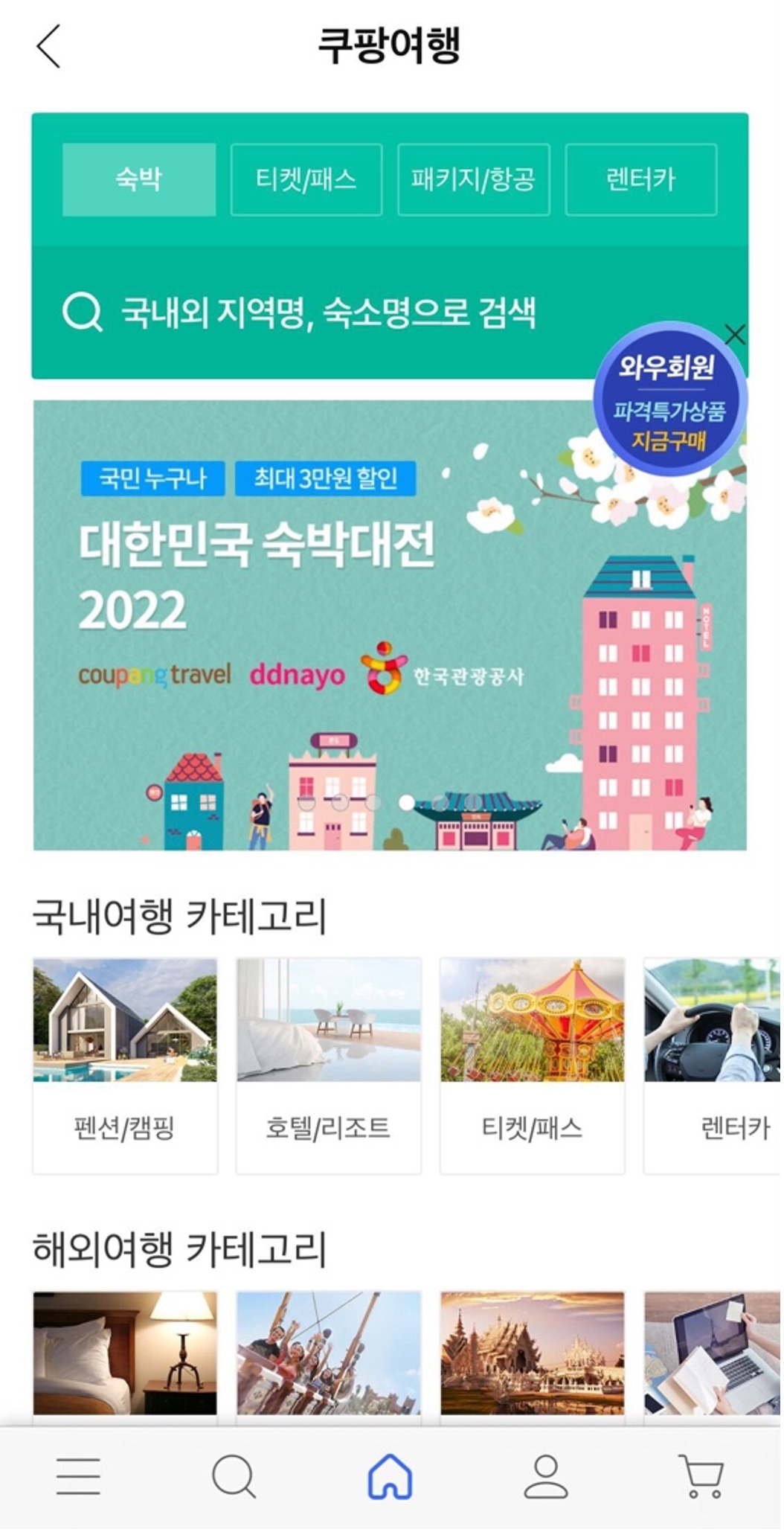 The Coupang Travel page on the Coupang app allows customers to reserve accommodations, purchase flight tickets and packages, rental cars, and more

If you press the travel tab on the Coupang app, you can find various Coupang's various travel offerings. Our offerings are broadly divided into domestic travel and overseas travel, with everything from flight tickets and accommodations to packages and rental cars. Our team works to ensure that customers can find these travel offerings at good prices through events and promotions, and to raise awareness of Coupang Travel among our customers and sellers.

Customers who use the Coupang app have come to expect special services unique to Coupang that are unavailable on other shopping apps. What's special about Coupang Travel?

Coupang Travel comes from the same Coupang DNA, which continually strives to provide the most convenient and best services to our customers. For example, Coupang operates its customer centers 24 hours a day, even on weekends, and we do the same with Coupang Travel.

Everyone has had the experience of needing to contact the accommodation or airline because of unexpected last-minute circumstances, but this can be very difficult if it happened to be the weekend or late at night. Or, they might have reserved accommodations abroad, but they may have trouble connecting due to the time difference.

However, Coupang Travel's customer center is always open, so if there are any inconveniences or you need to change your schedule, you can cancel your reservation quickly and conveniently at any time to get a refund. Customers who have tried it are very satisfied, and sellers also love the service because this helps ensure that customers have a good experience.

Coupang is also famous for its extensive WOW membership benefits, and these include our travel offerings. We provide special discounts to WOW members, with over a thousand WOW membership discount travel products. In addition, WOW members get up to 5% back in Coupang Cash.

Coupang Cash? So, can I use the cash I earned from my travels on Coupang?

That's right. On other travel sites, you can use the points you accumulate for your next trip, but on Coupang, you can also use it to purchase any other Coupang product. Since Coupang offers such a range of different products, this gives you the advantage of being able to complete all of your travel arrangements on Coupang. For example, you could reserve a camping site on Coupang Travel, purchase camping equipment through Rocket Delivery, and even purchase food to eat while camping with Rocket Fresh. 

That's so convenient! Does Coupang Travel provide benefits to sellers as well?

We consider our sellers to be our customers as well, so we always strive to grow together with both our customers and sellers. The government has recently eased its COVID guidelines, and customers' travel needs are rising again. To meet these needs, we introduced offerings like Cookie Travel, a collection of travel offerings for kids, and a premium program that curates five-star hotels. Sellers on Coupang Travel can participate in these kinds of events without having to pay additional advertising costs, and they receive various marketing benefits provided by our team. This is part of our efforts to help the travel industry and SMEs that have been struggling for a long time, so that we can leap forward together with Coupang Travel.




What impact did COVID-19 have on the industry and your team members?

The pandemic began around a year after we introduced our exclusive Coupang Travel sales page and seller sign-up page. We were in the middle of finding our bearings and increasing sales, but that became really difficult because we couldn't encourage travel. However, we wanted to help our sellers as much as possible and endure the hardships together.

In the early days of the pandemic, we reduced fees by up to 50%, and organized a campaign to allow participants to travel in compliance with the government guidelines by organizing special events at no additional cost. We also delivered news on government support policies and other information to sellers and tried to minimize their losses as much as possible. At the same time, we emphasized cleanliness, disinfection, and other COVID safety guidelines to sellers, working together to ensure that customers could travel with peace of mind. It was a hard time for the entire travel industry, and our team members all worked hard to help sellers. Many sellers shared with us how they were able to overcome these difficult times through Coupang, and that made us very proud.

With such a long history, I imagine many things have changed at Coupang Travel. Has anything stayed the same?

Our first Leadership Principle, "Wow the Customer," is a part of our unique identity and the most important principle both then and now. We've concentrated on customer satisfaction and convenience in every team meeting since the very beginning. I think the reason why our team has been so consistent in our work despite dealing with a special product like travel is because Coupang maintains this unwavering identity.

I look forward to what the future holds for Coupang Travel. Do you have any plans?

Just as Coupang does with Rocket Delivery, we will continue striving to provide differentiated services unique to Coupang Travel to satisfy our customers, doing our best to ensure that customers have an amazing travel experience with us.
This article is from the Coupang Newsroom and to read more please visit here.