Coupang continues bolstering veteran hiring efforts at Military Job Fair
Minister of National Defense Jong-sup Lee visits Coupang's recruiting booth
Coupang is firmly committed to providing and creating good jobs for people from all different walks of life, including the brave veterans who have committed their lives to serving our country. We continue to work closely with the government and military to recruit former officers and soldiers, through efforts such as our partnership with the Ministry of Patriots and Veterans Affairs to help recently discharged veterans find suitable jobs and readjust to civilian life.

Last month, Coupang continued these efforts by participating in the Military Job Fair, hosted by the Ministry of National Defense. The event was held from April 18 to 19 at the Korea International Exhibition Center (KINTEX) in Goyang, and drew in an estimated 20,000 soldiers and officers who were approaching their discharge date. The center was filled with the recruiting booths of over 200 companies.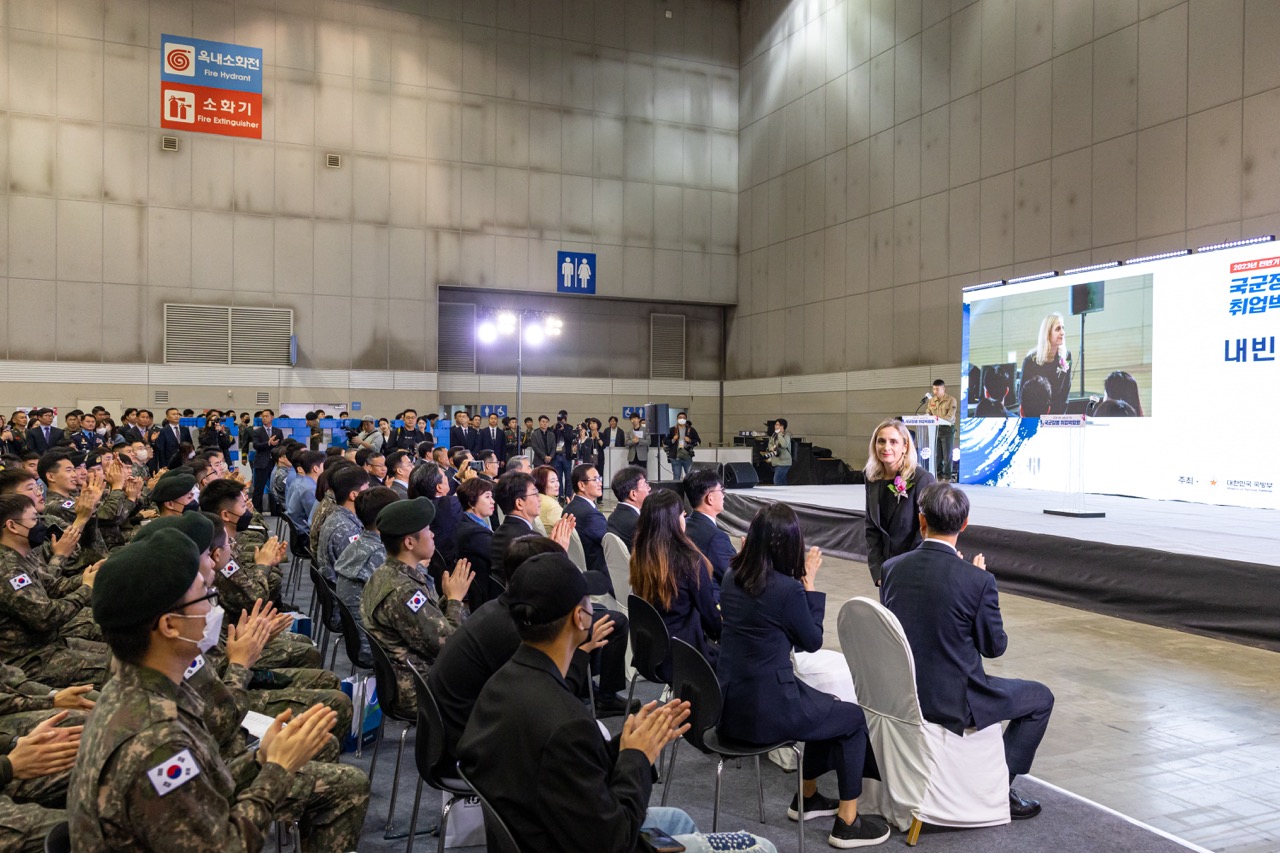 Coupang's Head of Global Recruiting Jo Thomas greeting participants at the opening ceremony
After the opening ceremony, the Minister of National Defense Jong-sup Lee gave Coupang the honor of visiting our booth first, accompanied by Coupang's Head of Global Recruiting Jo Thomas. The Minister listened intently as employees explained the company's business and veteran recruiting efforts. He then shared his fondness for Coupang's services—"I also use Coupang a lot," he said—before issuing a "last order" to two service members having consultations that, "Be sure to get accepted into Coupang."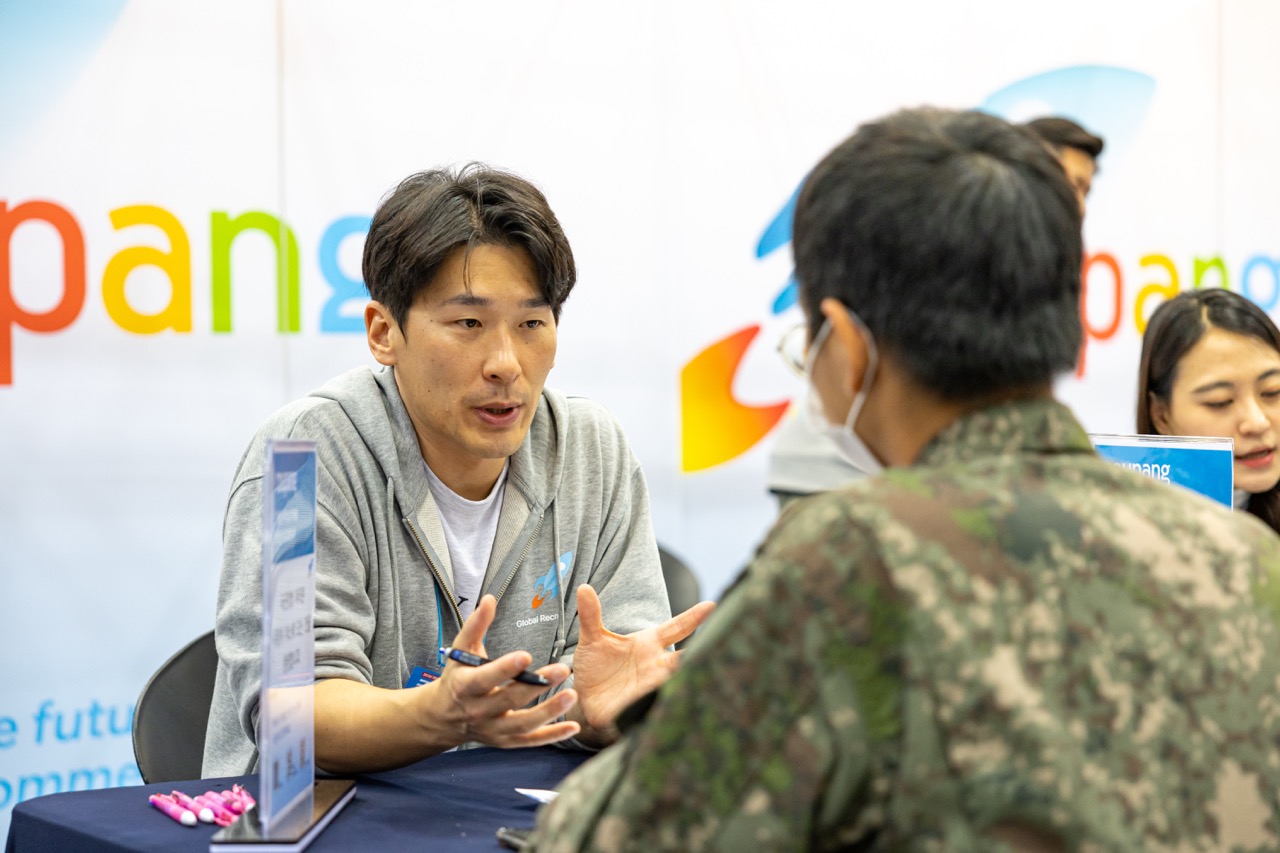 A soldier consulting with Coupang Senior Recruiter Ian Yu
In addition to participating in military job fairs and giving special lectures and mentoring on employment, Coupang has entered into memorandums of understanding (MOUs) with the Republic of Korea Army and Air Force to provide employment support for military personnel. We also work with the Military Outplacement Training Institute to provide customized employment courses to former service members and provide employment opportunities.

In recognition of our continued efforts, Vice Minister of National Defense Beom-chul Shin awarded Coupang with a plaque of appreciation in February this year. Coupang Fulfillment Services (CFS), Coupang's logistics subsidiary, was also honored with a plaque of appreciation from the Army Chief of Staff in December last year.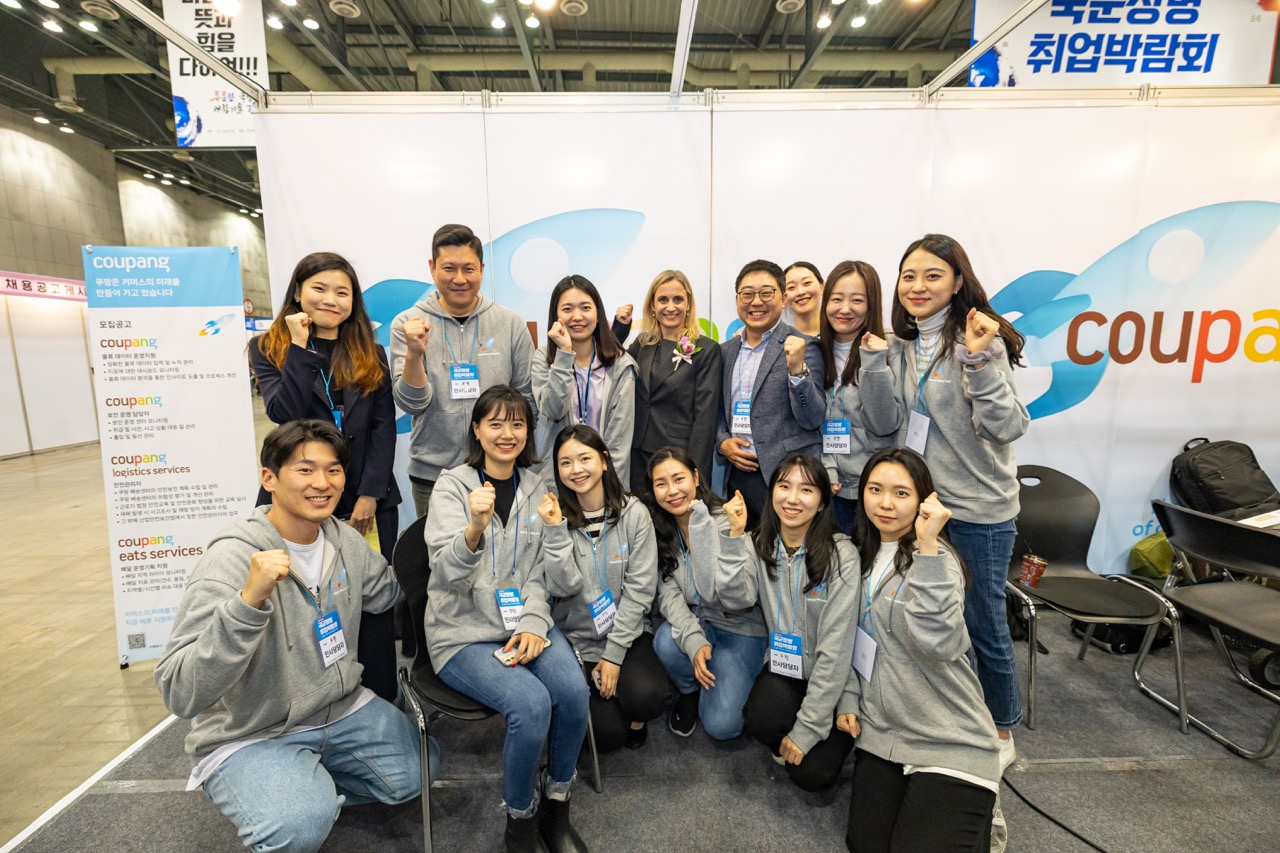 The Coupang Recruiting Team and the rest of us at the company wish all our service members a successful new start as they return to civilian life. We will continue striving to create good job opportunities for all and make Coupang a global model for a diverse and inclusive workplace.