The future of commerce for all: The incredible innovations powering the Coupang experience
The idea that trade-offs are inevitable in commerce is deeply ingrained in society, embodied in zero-sum thinking and aphorisms like "There's no such thing as a free lunch." If we want great prices, we have to give up convenience. If we want something quickly, we have to pay more. Or, if a service is cheap, convenient, and fast, it must be coming at the expense of the workers, small businesses, or the environment.
At Coupang, this kind of thinking runs counter to our very DNA. Amazing service, low prices, broad selection—we want our customers to have it all. At the same time, we want to create the best possible workplace for our employees. We want to help all businesses grow and succeed, no matter how small. And we want the work that we do to help protect our planet, not destroy it. In short, our model of commerce is one in which everyone thrives. How is that possible?
Enter smart innovation. We have invested billions of dollars into building our end-to-end fulfillment and logistics infrastructure, which integrates cutting-edge technology such as artificial intelligence and custom robotics. And because we own and operate our entire network, comprising over 40 million square feet of infrastructure and the largest full-time fulfillment and logistics workforce in Korea, we can innovate beyond the bounds of traditional retail and logistics business models to provide the best customer experience and unlock greater, sustainable value for our planet, our people, and our communities. For example:

Automated-guided vehicles (AGVs)
Automation Technology

With the help of automation technology, we can deliver orders quickly and reliably to customers while making jobs easier and safer for employees. For example, our automated guided vehicles (AGVs), which we also refer to as goods-to-person technology, can bring hundreds of items to pickers at their workstations in a single trip, which takes two minutes on average. These AGVs eliminate most of the walking and nearly all the burden from lifting and carrying items for employees, reducing their total workload by approximately 65%.
Sorting robots
Meanwhile, with our ergonomically designed sorting robots, sorters can simply place packaged products on top of one of these machines, which scans the address on the waybill to sort orders by delivery area in just a few seconds. This means that sorting can also be completed without the carrying and most of the lifting normally required for the job, making employees' work dramatically easier while increasing their impact on customers. We also have driverless forklifts that automatically store and retrieve pallets containing high-volume products, improving safety by eliminating human-forklift interactions.

By introducing such automation to supplement our existing workforce, we can deliver more orders to customers even faster, all while making jobs easier and safer for workers and creating new jobs in line with the increased capacity.

Automated forklift
AI-Powered Management System

Underpinning the complex choreography between workers and robots is our AI-powered management system, which coordinates our entire operations from the moment a customer places an order to the moment we deliver that order to their doorstep. 

Within seconds of a customer's order, our AI generates the unique, optimized path each item will follow, down to the exact spot in the specific truck where it should be loaded. The AI also coordinates tasks for our workers and drivers using real-time data, allocating work and providing optimal routes and other information to help them perform their jobs safely and efficiently while managing overall workload. Our system even predicts future demand to forward deploy inventory and equipment such as our AGVs and sorting robots, ensuring a seamless customer experience even in peak times such as holidays.

Such efficiency is possible because we own our network end-to-end, allowing us to analyze, optimize, and innovate upon every step of the e-commerce process. We have hundreds of patented innovations related to our fulfillment centers and logistics systems alone, and the total number of patents issued to Coupang grew by over 80% per year in both 2021 and 2022. These innovations have a cumulative impact on the customer experience, allowing us to achieve average delivery times of 12 hours even while continuing to scale our operations.




Integrated Zero-Emission Delivery

We have a continually growing fleet of electric vehicle (EV) Coupang Cars, which are currently operating in Jeju, Namyangju, and Busan. Currently, EVs comprise 50% of our fleet in Jeju, where we have built an integrated EV logistics center that was designed and built from the ground up with zero-emission delivery in mind. The center includes a ceiling charging system for trucks that we first introduced in Korea as well as other customized EV facilities that can accommodate Rocket Delivery using electric vehicles 24 hours a day, 365 days a year.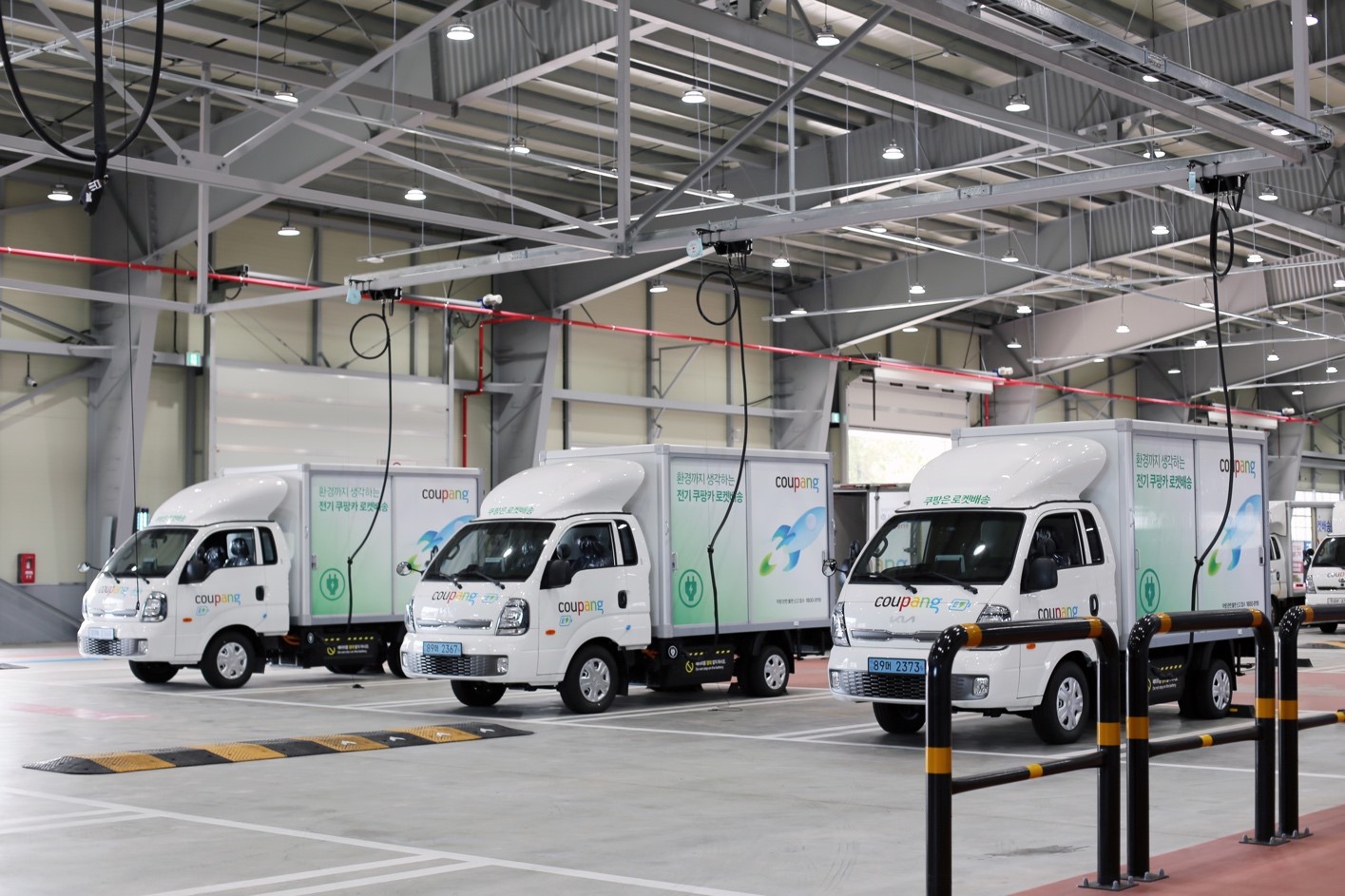 EV Coupang Cars and ceiling chargers
Our EV Coupang Cars are not only better for the environment; our customers and Coupang Friends (drivers) also prefer EVs as they are quieter and emission-free. The lack of vibrations also provides a more comfortable ride for our Coupang Friends as they deliver orders to customers.

In addition to our expanding fleet of EVs, we also have an 11-ton hydrogen truck, which operates between delivery centers around the Incheon and Yeongjongdo areas. This truck charges faster than EVs and can cover the same distance as a diesel vehicle without the emissions.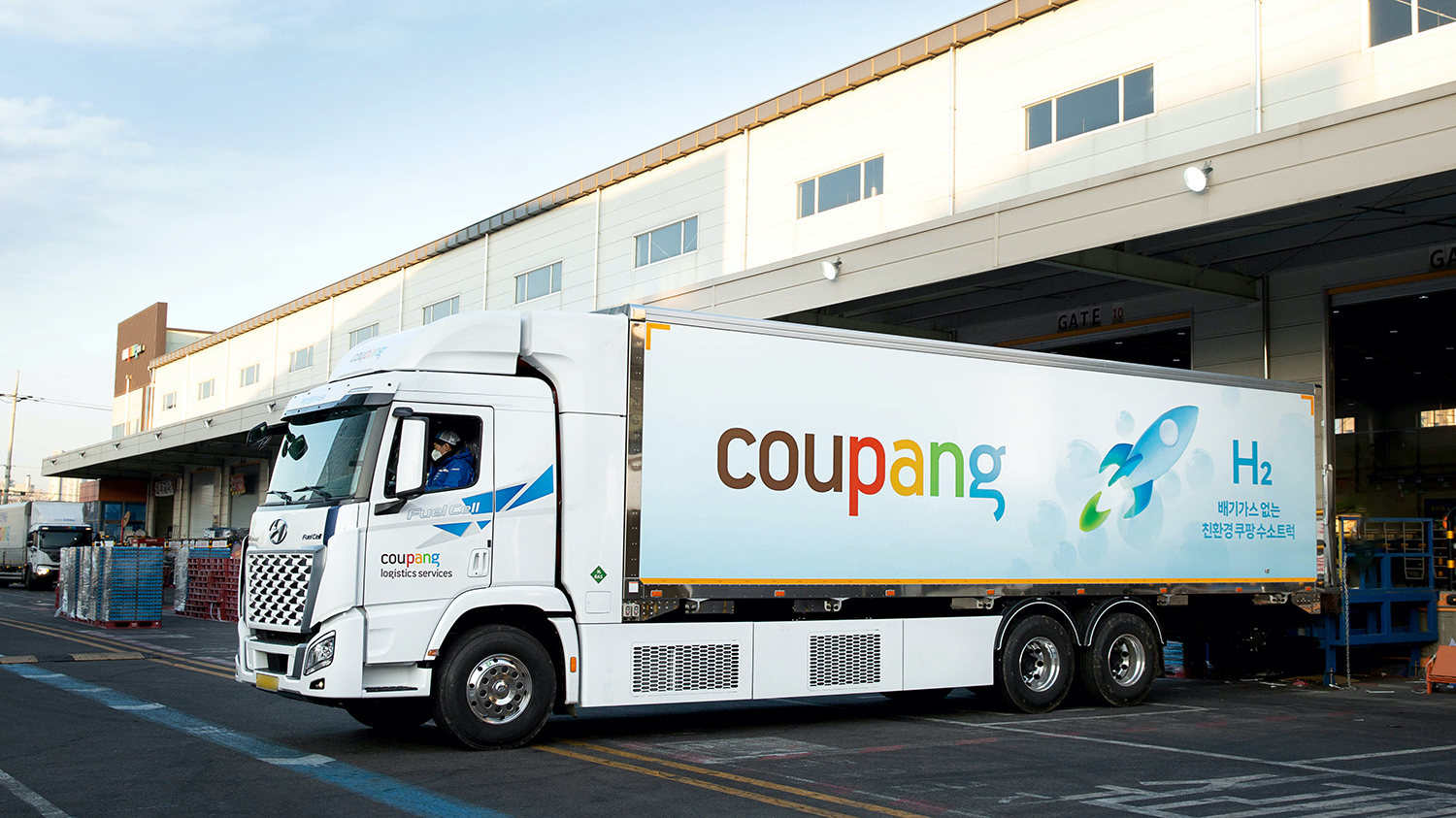 11-ton hydrogen truck
Eco-Friendly Packaging and Distribution

Thanks to the end-to-end integration of our network, we've cut the fulfillment and logistics process in half, eliminating unnecessary travel and hand-offs between intermediary parties. This also allows us to complete 85% of Rocket Deliveries without additional cardboard box packaging, which is typically required in conventional models to protect the products throughout multiple hand-offs. This measure saved the equivalent of 9 million trees in 2022.

Reusable Fresh bags
In addition, we deploy reusable Fresh bags for grocery deliveries, which customers can place outside their doorstep to be recollected by our drivers on their next delivery for cleaning, sterilization, and reuse. Currently, 70% of our Fresh deliveries are made in these bags, eliminating the use of over 110 million Styrofoam boxes in 2022.

Our Fresh bags have been very popular among customers, as the bags free them from the hassle and guilt of having to dispose of boxes and other wasteful packaging with each delivery. And recently, we have been piloting a closed-loop recycling program in partnership with LG Chem, which will make sustainable shopping even easier for customers. Through this innovation, customers can simply place used plastic packaging in our Fresh bags to be recollected and recycled to create new Coupang packaging. We also plan to recycle vinyl scraps from our FCs into plastic bags for delivery starting from this year, with 70% of our plastic packaging bags to consist of these recycled bags.



Products delivered without additional cardboard packaging
The Future of Commerce for All

This is just a taste of the technology that drives the Coupang experience, working in tandem with the third-largest private workforce in Korea to create new moments of wow for our customers. Even so, we are still in the very early stages of our journey. In terms of all we hope to accomplish, this is still only the top of the first inning. We will continue innovating, breaking trade-offs, and investing in our customers, employees, small businesses, and communities working ever closer toward a world where everyone wonders, "How did we ever live without Coupang?"  
This article is from the Coupang Newsroom and to read more please visit here.